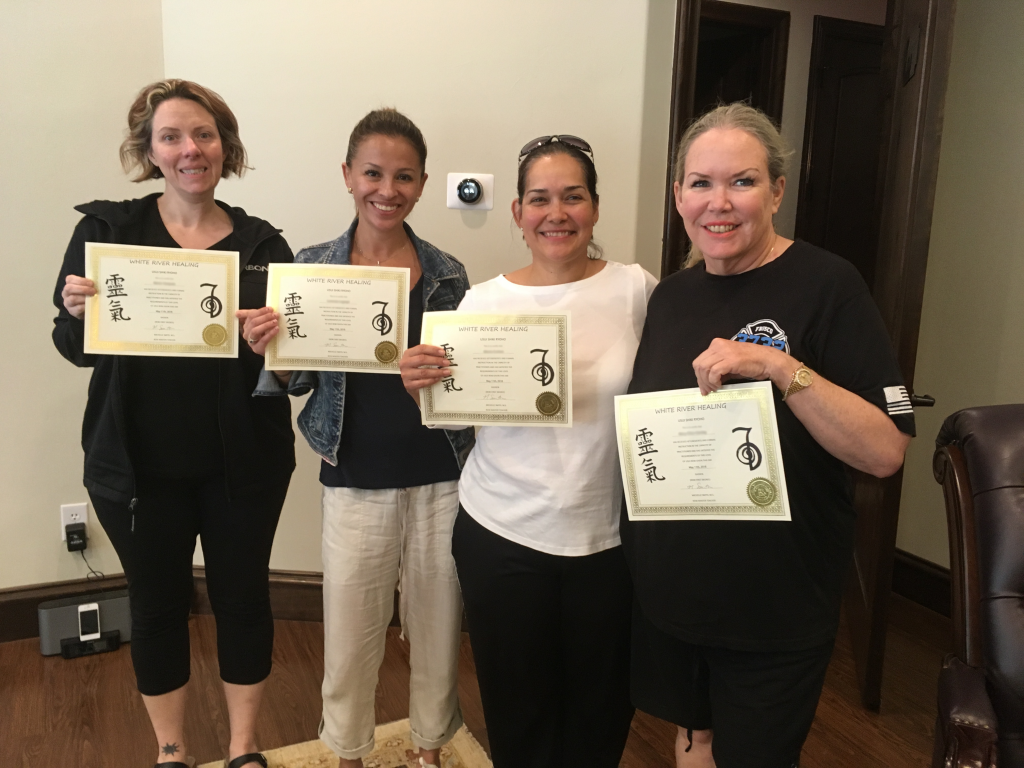 Scheduled Classes
All classes are on hold at this time.
Usui Reiki Certification Courses
Reiki Level I (First Degree): If you want to feel centered and bring a sense of peace and healing into every day, start by giving yourself the gift of self-healing by learning Reiki. In doing so, you open up doors to wonderful shifts in healing energy.  Not only do you learn self-treatment, but you learn how to practice on your friends and family as well.  No prior experience or training is required for First Degree training – all are welcome! First Degree (or Level I) is for those who wish to start their healing journey and figure out if they would like to focus on self-healing only or go on to become a Reiki practitioner.
What you will learn in Reiki Level I course:
What is Reiki
History of Reiki
How Reiki heals
How Reiki can be used
The different levels of Reiki
The 5 Reiki Principles
The Chakras and Energy Field
How the attunement process works
Self-treatment with Reiki
How to give a Reiki treatment to another person
Reiki hand positions (when and when not to use them)
How to feel and work with the Reiki energy intuitively
Practice guidelines for giving and receiving Reiki
How to structure a Reiki session
Ethics, permission, and safety considerations
Focusing and cleansing techniques
Receive Level I manual
Reiki Level II (Second Degree): For those who wish to refine and strengthen the use and flow of Reiki, with the option of moving on to become a Reiki practitioner.  Requirements: Usui Reiki First Degree Certification verification.
What you will learn in Reiki Level II course: 
Introduction and attunement to Level II symbols
How and when to use the symbols
Technique of absent or distant healing
How to follow Reiki teachings
Increase work with intuition
The power of intent
Advanced Reiki treatment of others
Treatment techniques
How to increase flow of energy when treating
How to deal with energy drain during treatments
Receive Level II manual
Reiki Level III (Master-Teacher): For those who wish to pursue a lifetime commitment to Reiki and spiritual growth and be able to pass on the gift of Reiki to others. You do not have to teach for this level to be useful, as you will receive additional healing energy, symbols, techniques and knowledge that will add value to your healing abilities. Requirements: Usui Reiki First- and Second-Degree Certification verification.
Note: If you have not received Level I and/or II from White River Healing, a phone discussion is required prior to class to verify level I and II training, determine goals, skill level, and readiness for Master-Teacher training.
What you will learn in Reiki Master-Teacher course:
Refine treatment and/or self-healing skills
Receive Level III attunement
Expand connection to energies
Skills/knowledge review of Usui's original system
Master Symbol
Several other optional 'Western use' symbols for soul healing, balance, karma, and focusing intense energy for mind or emotions.
How to attune others with Western attunements & Japanese empowerments
Structure of teaching Level I, II, and III classes
The potential of intuition and how to use/enhance it
The use of Reiki Kotodama
Receive Level III instruction material
Cost
Level I cost = $195 Includes manual and instructional handouts
Level II cost = $215 Includes manual and instructional handouts
Level III cost = $315 Includes manual and instructional handouts